All in the Family: Farm & Land Broker of the Year Awarded to Father & Son
September 22, 2016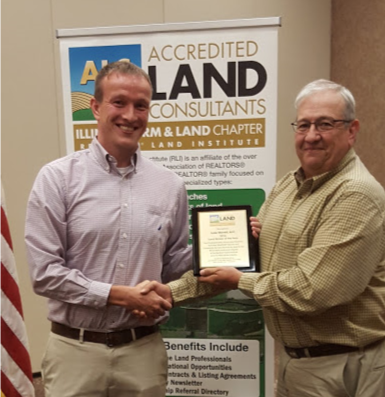 Luke Worrell has been named the 2016 Illinois Farm & Land Broker of the Year by the Illinois Farm & Land Chapter of the REALTORS® Land Institute (RLI). This award is selected by peers throughout the state of Illinois within the land real estate profession, and recognizes an Accredited Land Consultant for his professionalism, dedicated effort, and service expended on behalf of his fellow RLI members, the real estate profession, and his community. Luke is the youngest recipient of the award since it began in 1979.
Allan Worrell received the same award in 2015. He was given the honor of presenting the award to his son on behalf of the RLI Illinois Farm and Land Chapter at the annual banquet in September. Said Allan "I couldn't be more proud of Luke, both as his dad and his colleague. People often say that Luke is following in my footsteps, but in reality, the way he does business challenges me to continue to grow in our profession."
Cited in the nominating commentary regarding Luke were the following attributes, among others: a high level of competency and exceptional service well beyond his years in the business; excellent communication with clients and ag-business professionals; willingness to do what it takes to provide good service; works very hard and creatively to ensure that his clients' needs are met; principled, respected, personable, and exhibits an unselfish spirit.
Luke joined Worrell Land Services and received his Illinois Real Estate Broker license in 2007. He also holds Accredited Farm Manager (AFM) and Accredited Land Consultant Advanced (ALC) designations. He is active within the National REALTORS® Land Institute (RLI) where he currently serves on the National Education Committee, the National Land Conference Committee and is a blog contributor. He also serves as a board member for the Illinois Chapter of the RLI, which earned the 2015 Outstanding Chapter Award. Luke is active in the American Society of Farm Managers and Rural Appraisers (ASFMRA) where he serves as a board member on the Government Affairs Committee. Additionally, Luke is a two-time past president of the Jacksonville Area Association of Realtors. He serves on the local Kiwanis Board of Directors, the Morgan County Fair Board and actively serves within his church.