243.01± Acre Land Auction, Macoupin County
Auction Date: Saturday, March 3 @ 9:00AM
Auction Location: Chesterfield Community Club, 115 N. Street Dr., Chesterfield, IL 62630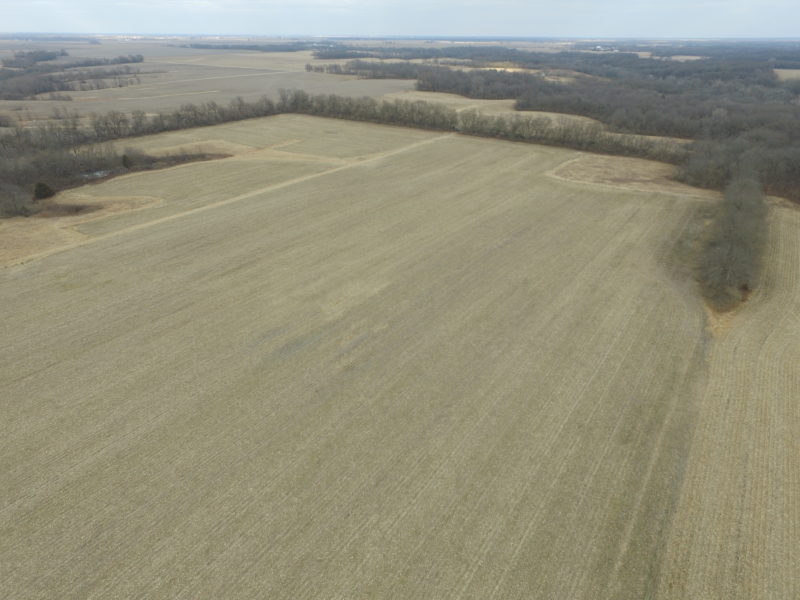 Both of these Western Macoupin County tracts are a truly good mix of income-producing and recreational acreage.
Tract 1: 163.01± Taxable Acres
Of the 163.01± acres, 91.02 acres are in row crop and 19 acres are in CRP making it 67% income-producing land. The annual CRP income is $4,402 through 2026, which averages to $231.68 per acre – a strong, long-term CRP payment. The farm has great recreational features including excellent timber that has not been logged in many years. The tillable land consists of two fields, both of which have good road access. Soils include Wakeland, Keomah, Rozetta, Hickory and Elco, with an average Productivity Index rating of 124.1.
Taxes: $1,931.02
Tenancy: Open for 2018 upon reimbursement of 2018 crop and CRP expenses. Expenses are available upon request.
Location: Macoupin County, Western Mound 7, 17&18-10N-9W. 12 miles West of Carlinville.
Tract 2: 80± Taxable Acres
This 80± acre parcel is comprised of 36.47 row crop acres, all of which are NHEL, and 10.1 acres in CRP making it 58% income-producing land. Annual CRP income totals $2,357, an average of $233.37 per acre, and runs through 2027. The farm is a really nice mix of income-production and recreational opportunities. The timber is mature, as it has not been logged in many years. Soil types include Keomah, Fishhook and Rozetta, with an average Productivity Index rating of 116.6.
Taxes: $457.76
Tenancy: Open for 2018
Location: Macoupin County, Polk 18-9N, 8W. 7 miles Southwest of Carlinville
Mineral rights are in tact for both tracts. The topography for the tillable acreage on both tracts is level to rolling.
Seller: Dennis Sagez
Sales Terms: Upon conclusion of auction, Seller and Buyer(s) shall enter into a purchase Agreement, with the Buyer(s) to pay ten percent (10%) of the purchase price as down payment. Balance due and payable on or before April 3, 2018. Possession will be given at closing. The property is free of any tenant's rights for 2018. Seller will convey by Warranty Deed, and will furnish title insurance in amount of the purchase price. Seller will pay the 2017 real estate taxes payable in 2018 by giving Buyer(s) a credit against the purchase price. Buyer will pay the 2018 real estate taxes and all years thereafter. Procurement of financing shall be the sole responsibility of the Buyer(s) and must be obtained prior to the auction. Broker is acting as the Seller's agent for Dennis Sagez and is not representing any Buyer(s). The property is being sold "AS IS" without representation or warranty expressed or implied. The sale is subject to Seller's approval. The property is being sold by the acre. Each tract to be sold separately and not offered back in any combination. Auctioneer reserves the right to set the bid increments. Seller is not responsible for any accidents that may occur while inspecting the property. Buyer(s) should verify the information to their satisfaction. There are no expressed or implied warranties pertaining to these properties. ANNOUNCEMENTS MADE BY THE BROKER AND/OR AUCTIONEER AT THE TIME OF SALE WILL TAKE PRECEDENCE OVER ANY PREVIOUSLY PRINTED MATERIAL OR ANY OTHER ORAL STATEMENTS MADE.
Gallery
Allan Worrell is the Managing Broker for Worrell Land Services, LLC.