31 Acre Farmland Auction, Greene County
Auction Date: Wednesday, November 15 · 11:00AM
Auction Location: Patterson Community Club, Patterson IL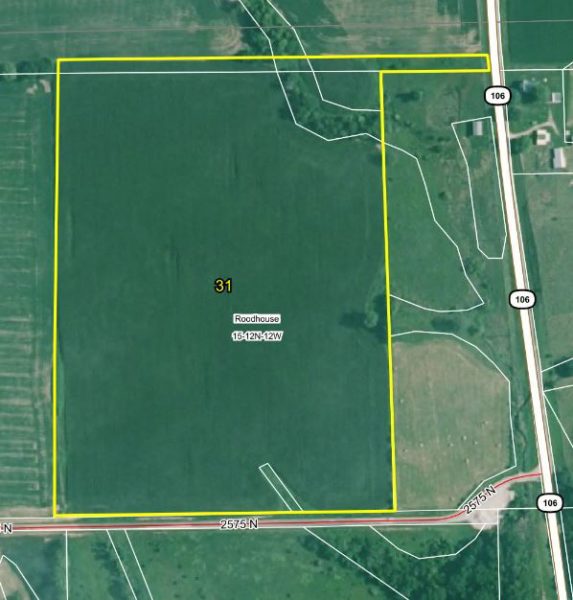 SOLD! $8,600 PER ACRE
This smaller tract of farmland represents an excellent opportunity for operators and investors alike. The farm is 31 taxable acres, of which 29.11 acres are tillable according to the USDA. Comprised primarily of Greenbush, Muscatune and Rozetta soils, the farm carries a strong productivity index rating of 128.8. This parcel is located just minutes from Roodhouse, White Hall and Winchester. Access is available along the entire Southern boundary.
This is a great opportunity to own a highly productive parcel under 40 acres in this strong agricultural area. Call 217.245.1618 to learn more.
Taxes: $693.58
Topography: Level to slightly rolling
Minerals: In tact
Possession: At closing
Seller: E E & S Farms, Inc.
Representing Attorney:
Richard Gillingham
Gillingham Abstract & Title Company
220 Sixth Street
Carrollton, IL 62016
217.942.5244
Sales Terms Summary: Upon conclusion of auction, Sellers and Buyer(s) shall enter into a purchase Agreement, with the Buyer(s) to pay ten percent (10%) of the purchase price as down payment. Balance due and payable on or before December 15, 2017. Possession will be given at closing or upon removal of 2017 crops. The property is free of any tenant's rights for 2018. Seller will convey by Warranty Deed, and will furnish title insurance in amount of the purchase price. Sellers will pay the 2017 real estate taxes payable in 2018 by giving Buyer(s) a credit against the purchase price. Procurement of financing shall be the sole responsibility of the Buyer(s) and must be obtained prior to the auction. Broker is acting as the Seller's agent for E E & S, LLC. and is not representing any Buyer(s). The property is being sold "AS IS" without representation or warranty expressed or implied. The sale is subject to Sellers' approval. The property is being sold by the acre. Auctioneer reserves the right to set the bid increments. Sellers are not responsible for any accidents that may occur while inspecting the property. Buyer(s) should verify the information to their satisfaction. There are no expressed or implied warranties pertaining to these properties. ANNOUNCEMENTS MADE By THE BROKER AND/OR AUCTIONEER AT THE TIME OF SALE WILL TAKE PRECEDENCE OVER ANY PREVIOUSLY PRINTED MATERIAL OR ANY OTHER ORAL STATEMENTS MADE.
Gallery
Allan Worrell is the Managing Broker for Worrell Land Services, LLC.